[STFL Public Lecture by Dr. Daniela Cecutti] Dante's Divine Comedy in Art
[STFL Public Lecture by Dr. Daniela Cecutti] Dante's Divine Comedy in Art
The School of Translation and Foreign Languages public lecture entitled "Dante's Divine Comedy in Art" was delivered by Dr Daniela Cecutti on 25 February 2022.
Dr Daniela kick-started the lecture with a brief introduction on the lifetime achievements of Dante Alighieri. He was considered the father of the Italian language, as he was credited with using the vernacular when most poets of the time used Latin as the medium of expression, which made most poetry accessible only to the affluent and educated class. Dante was also one of the first to use the vernacular in poetry and influence others. He wrote the Divine Comedy in the vernacular, which was revolutionary.
After introducing Dante, Dr Daniela continued to share Dante's famous work Divine Comedy, an epic poem written in the first person between 1308 and 1321. Dr Daniela led the audience on Dante's allegorical journey of the soul through Hell, Purgatory, and Heaven by touching on different Western artistic and literary works.
Dr Daniela concluded Dante's Divine Comedy from an artistic point of view, and ended the talk with the last line of the Inferno canto.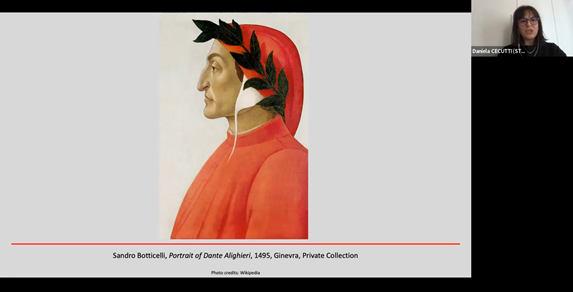 Dr Daniela showing the portrait of Dante Alighieri.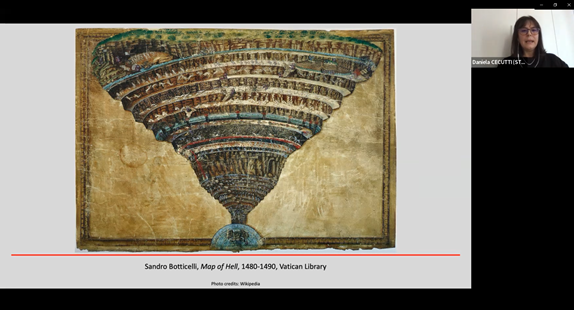 Dr Daniela introduces the audience to the Map of Hell by Sandro Botticelli.