Programme Overview
---
Mode of Programme
Full-time / Part-time
Minimum No. of Credits Required
24
Minimum Programme Length
Full-time: 1 year; Part-time: 2 years
Maximum Programme Length
Full-time: 2.5 years; Part-time: 5 years
Class Schedule
Weekday evenings and/or Saturday afternoons. Evening classes normally start at 7:00 pm. Saturday classes normally start at 2:00 pm. Class schedule is subject to change and the final decision rests with the University.
Medium of Instruction
English is the primary medium of instruction, which is supplemented by Chinese (Cantonese and / or Putonghua).
Tuition fee
Tuition fee will be calculated on a credit unit basis. For 2022/23 intake, the typical tuition fee for 24 credits will be HK$110,520 for local students and HK$138,240 for non-local students.
For information about scholarships, please click here.
QF Level
6
QR Registration No.:
18/000853/L6
Registration Validity Period:
08/11/2018 To 31/08/2025
Area of Study (QR)
Languages and Related Studies
---
Applicants are required to fulfil the following entrance requirements for admission:
A Bachelor's degree from a recognized university or equivalent; and
Fulfilment of one of the following English language proficiency requirements if
the applicant's bachelor's degree was not obtained from a university where English is the medium of instruction: TOEFL ≥ 550 (paper-based), ≥ 213 (computer-based), ≥ 79 (internet-based); IELTS ≥ 6.5; CET 6 ≥ 430; TEM-4 ≥ 70.
Applicants may be required to take an entry test or interview. Assessment criteria will include translation aptitude, communication skills (English and Chinese), basic computer knowledge, and personal traits.
Application deadline is 30 June 2022 (for non-local applicants) and 24 August 2022 (for local applicants). Please access the online application here.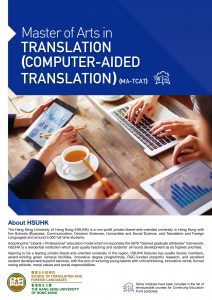 Master of Arts in Translation (Computer-Aided Translation)
---