Nordic Culture Festival at HSUHK – Languages in Theatre – Cultural Exchange Session
7 November 2019
Nordic Culture Festival at HSUHK – Languages in Theatre – Cultural Exchange Session
'Languages in Theatre – Cultural Exchange Session', the third event in 'Nordic Culture Festival' hosted by the School of Translation, was held on 7 November 2019. Directors and Ensemble Members of Artic Odyssey visited the HUSHK and shared with participants their insightful experience in promoting indigenous cultures through performing arts.
Fond of the nature and culture of the Arctic, Mr Jarkko Lahti, Artistic Director of Ruska Ensemble of Finland and Director of Arctic Odyssey, introduced the Ensemble's aspirations of connecting indigenous peoples and the world through artistic works. He revealed five principal elements in working with indigenous groups: to know the history, to listen proactively, to respect equality, to initiate dialogue and to build mutual trust.
Ms Hinriikka Lindqvist, Executive Director of Ruska Ensemble of Finland, told the audience how she strived to bring creative ideas alive, so as to promote environment and cultural diversity in the Arctic to the world.
Ms Susanne Andreasen, Artistic Director of The National Theatre of Greenland, joined the session through video connection. She expressed excitement at the introduction of Greenlandic language to the stage of Arctic Odyssey. She said the location of Greenland puts it at the forefront of global challenges. It would be great to gather people and build a platform for them to present their unique stories and cultures to the world.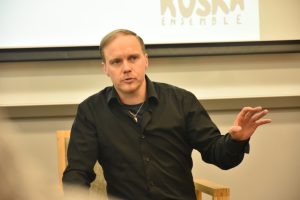 Mr Jarkko Lahti, Artistic Director of Ruska Ensemble of Finland and Director of Arctic Odyssey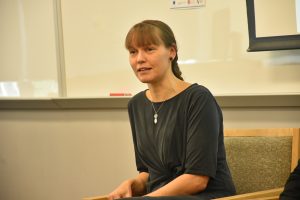 Ms Hinriikka Lindqvist, Executive Director of Ruska Ensemble of Finland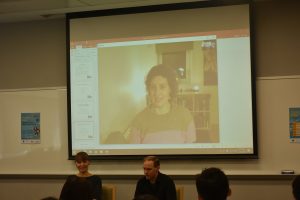 Ms Susanne Andreasen, Artistic Director of The National Theatre of Greenland, joined the sharing through video connection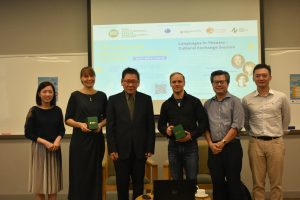 Professor Gilbert Fong, Dean of School of Translation, presents souvenirs to the guests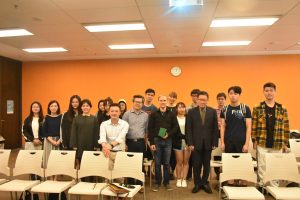 Group photo of the guests and participants