The Standard: MA-TCAT Programme – Harnessing technology in the service of translation
22 May 2020
(This article was published on The Standard on 22 May 2020.)
Harnessing technology in the service of translation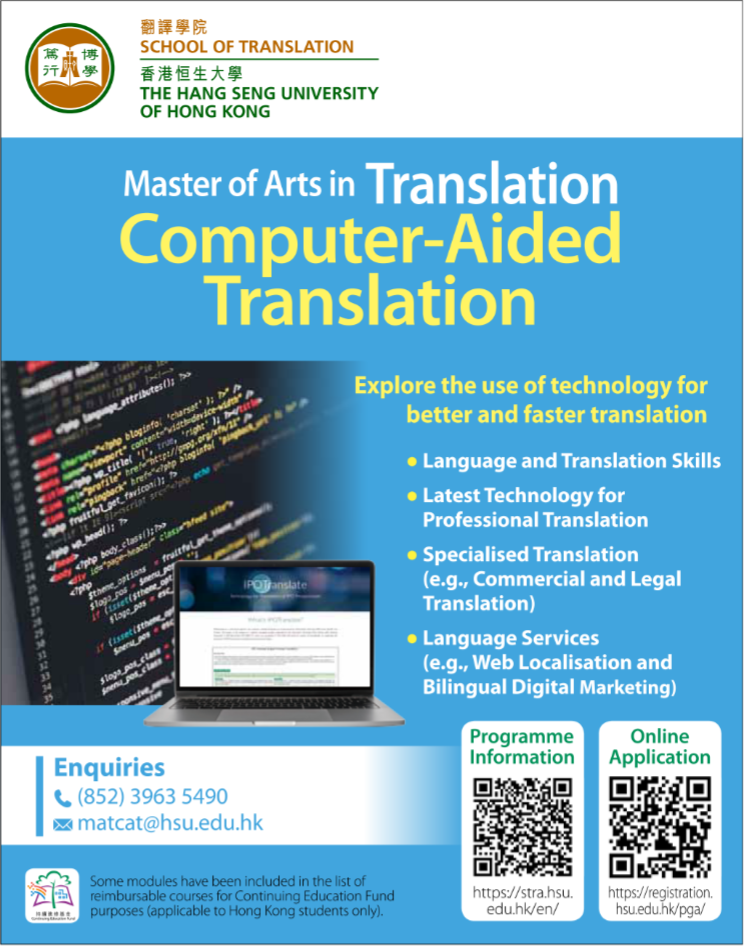 Curated by The Hang Seng University of Hong Kong's School of Translation, the Master of Arts in Translation (Computer-Aided Translation) aims at equipping students with the conceptual understanding and technical competency to excel in the computer-aided translation field.
As the world enters a new era of artificial intelligence and big data, there is a growing demand for language professionals with excellent skills in both translation and technology. To meet community demands, The Hang Seng University of Hong Kong's (HSUHK) School of Translation has developed the Master of Arts in Translation (Computer-Aided Translation) (MA-TCAT) to provide specialist training for potential language professionals to harness state-of-the-art translation technology in providing quality language services.
The programme is aimed at working professionals, whether they are journalists, administrative assistants or computer engineers, whose day-to-day work demands a solid understanding of translation theories and technology. It is also suitable for those who are interested in pursuing a higher academic degree, such as MPhil and PhD, in the computer-aided translation (CAT) field.
"The MA-TCAT is a market-oriented programme that is aimed at imparting practical skills and knowledge required for language professionals to advance their careers in the language and translation industries," says Prof Gilbert Fong Chee Fun, Dean of the School of Translation.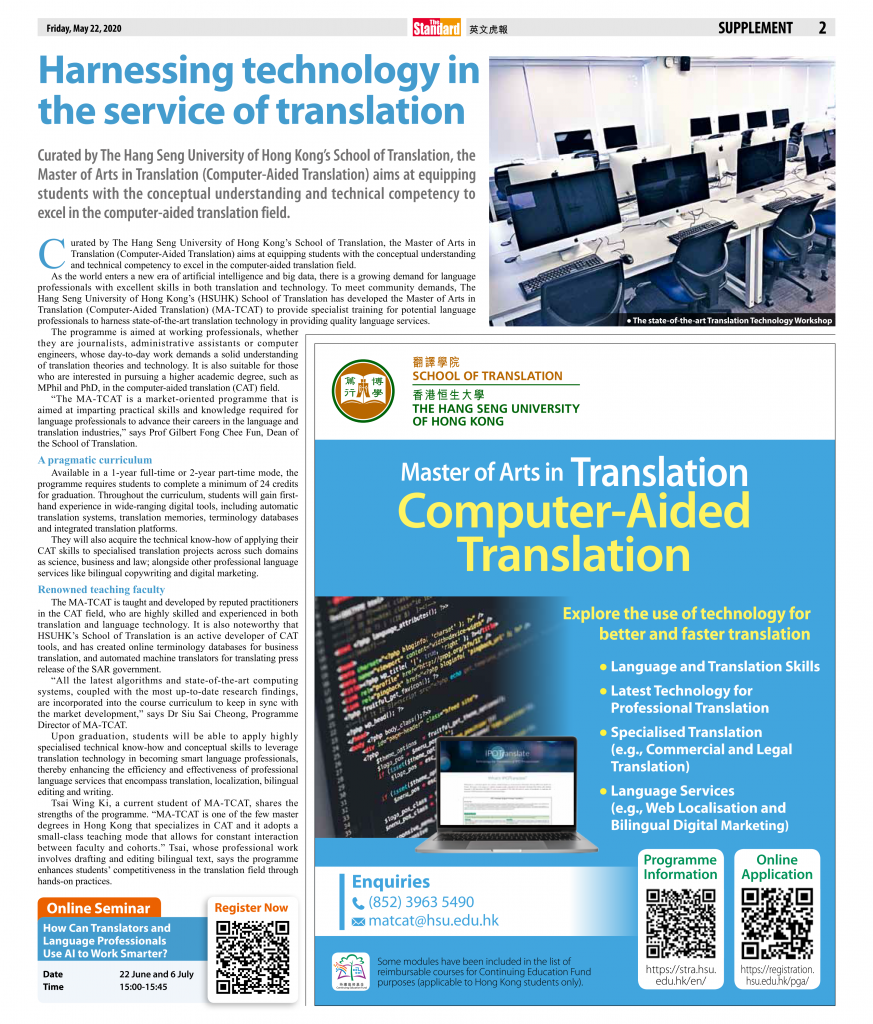 A pragmatic curriculum
Available in a 1-year full-time or 2-year part-time mode, the programme requires students to complete a minimum of 24 credits for graduation. Throughout the curriculum, students will gain first-hand experience in wide-ranging digital tools, including automatic translation systems, translation memories, terminology databases and integrated translation platforms.
They will also acquire the technical know-how of applying their CAT skills to specialised translation projects across such domains as science, business and law; alongside other professional language services like bilingual copywriting and digital marketing.
Renowned teaching faculty
The MA-TCAT is taught and developed by reputed practitioners in the CAT field, who are highly skilled and experienced in both translation and language technology. It is also noteworthy that HSUHK's School of Translation is an active developer of CAT tools, and has created online terminology databases for business translation, and automated machine translators for translating press release of the SAR government.
"All the latest algorithms and state-of-the-art computing systems, coupled with the most up-to-date research findings, are incorporated into the course curriculum to keep in sync with the market development," says Dr Siu Sai Cheong, Programme Director of MA-TCAT.
Upon graduation, students will be able to apply highly specialised technical know-how and conceptual skills to leverage translation technology in becoming smart language professionals, thereby enhancing the efficiency and effectiveness of professional language services that encompass translation, localization, bilingual editing and writing.
Tsai Wing Ki, a current student of MA-TCAT, shares the strengths of the programme. "MA-TCAT is one of the few master degrees in Hong Kong that specializes in CAT and it adopts a small-class teaching mode that allows for constant interaction between faculty and cohorts." Tsai, whose professional work involves drafting and editing bilingual text, says the programme enhances students' competitiveness in the translation field through hands-on practices.

Online Seminar
How Can Translators and Language Professionals Use AI to Work Smarter?
Date: 22 June and 6 July
Time: 15:00-15:45
[Register here]