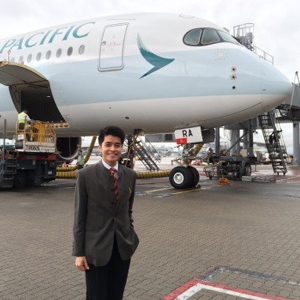 MO Yau Yu, Jason
Flight Attendant, Cathay Pacific Airways
BTB Graduate of 2015
After graduating from the School of Translation in 2015, I started my career up in the air as a cabin crew member with Cathay Pacific. Unlike the ordinary office, mine may have views of harbours, of streets and of cities, but from over the clouds 40 thousand feet above ground. And I think this makes my career one of the most fascinating in the world.
I remember one of our professors saying translation is not just about rendering concepts and ideas in different languages, but traveling between cultures. I may not work in the translation industry but I have never left translation. Indeed many of the ideas about translation are still applicable to the life of a cabin crew member. Every day I come face to face with people from different parts of the world with different cultural backgrounds. And my job is all about people, about how to serve them, how to make them feel relaxed during the flight and how to take them to other places. Besides travelling between cultures, the essence of my job is also traveling with cultures. And I'm enjoying the life of traveling.
Without the journey in the School of Translation, I could never have enjoyed the job and flown this high in this way. The training in the School always emphasised understanding through not only language but also a critical mind, paying extra attention to detail. And that's the key to becoming an attentive person, helping people to become successful and feel confident in every role. I have never regretted and will never regret beginning my journey at HSMC.