[STFL Online workshop series on game localisation and digital entertainment 2021] Workshop 3: From Game Industry to Gamification in Technology Education: My Entrepreneurial Journey
STFL Online Workshop Series – From Game Industry to Gamification in Technology Education: My Entrepreneurial Journey
 The third workshop of the STFL Online Workshop Series on Game Localisation and Digital Entertainment 2021, entitled "From Game Industry to Gamification in Technology Education: My Entrepreneurial Journey", was held on 2 August 2021. The workshop was delivered by Mr John Huen, Founder and CEO of Koding Kingdom (HK) Limited, and moderated by Dr Siu Sai Yau, Assistant Professor of STFL.
Mr John Huen has great enthusiasm for work and sees dedication to work as one of his purposes. Mr Huen recounted developments of the game industry, from the pre-internet era to the booming China's online gaming market, to issues derived from marketisation of the industry. Mr Huen also shared reminiscences of his entrepreneurial journey in technology education, as well as the opportunities and challenges encountered by local game enterprises.
With technological advancement in recent years, games have become more diversified, and e-sports, gradually recognised as a sport internationally, is adopted as a medal event in the coming Asian Games. In Hong Kong, the government has invested substantially to support e-sports and made it part of the innovation and technology policy. Mr Huen also mentioned the factors that need to be considered in developing games and working in the game industry.
Mr Huen concluded the talk by encouraging the young participants to better equip themselves with language and technology skills, to always stay optimistic, and to find out their career directions as soon as possible. In the Q&A session, Mr Huen patiently responded to the questions raised by the curious audience.
Facebook: Please visit here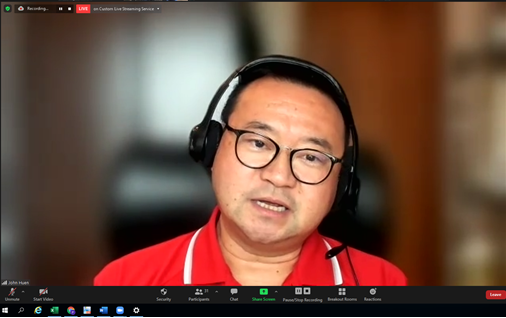 Mr John Huen, Founder and CEO of Koding Kingdom (HK) Limited