Article on The Standard: Exciting and Interesting Translation Hang Seng University's Unique BA Degree in Translation
(in English only)
5 July 2021
(This article was published on The Standard on 5 July 2021.)
The School of Translation and Foreign Languages at Hang Seng University, considered the premier translation school in the region, offers a one-of-a-kind Bachelor of Translation with Business (Honours) Programme (BTB). It provides students with a rigorous, interesting and up-to-date curriculum, state-of-the-art facilities and a highly qualified teaching team of knowledgeable and experienced professors.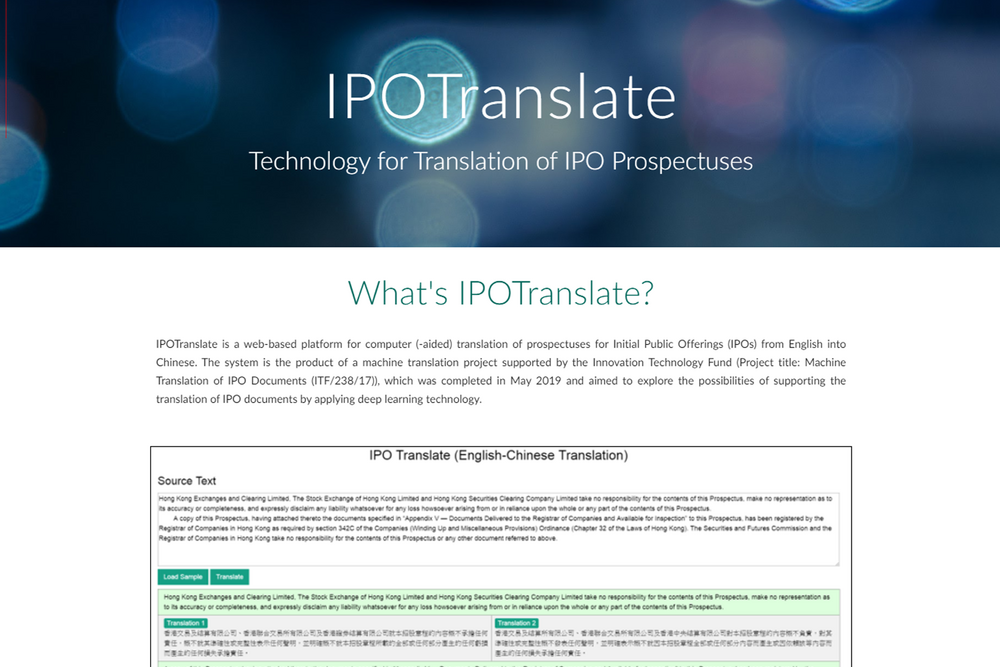 In today's interconnected world, translation plays a significant role in fostering communication across borders and cultures. To meet the growing demand for language services, Hang Seng University launched the BTB Programme in 2010, with the aim to nurture 'smart' translators with respect to technological literacy, cultural competency and intellectual prowess.
Professor Gilbert Fong, Dean and Professor of the School, emphasises that the Programme is designed on a premise of vibrancy and versatility with a student-centred approach that best fits the needs and interests of students. He enthuses, "With our comprehensive curriculum, cutting-edge facilities and experienced teaching staff, I am proud to say that we are the premier school of translation in the region."
Forward-looking Programme Design
The BTB Programme provides students with four years of hands-on training in translation and interpreting, keeping pace with current developments with innovative courses on financial and legal translation, arts translation, film and TV translation, social media translation, and game localisation.
The BTB Programme has two key objectives, explains Dr Siu Sai-cheong, Associate Professor and Programme Director of the BTB Programme, "The first objective is to help students leverage technology for better and faster translation. The second objective is to equip them with skills that computers lack, such as translating content that requires creativity and a human touch, such as advertorials and the arts."
Dr Shelby Chan, Associate Dean of the School, adds that the Programme has newly introduced a foreign language requirement. Starting this academic year, all undergraduates are required to study a foreign language. The choices include French, German, Spanish, Finnish, Italian, Indonesian, Vietnamese, Japanese and Korean. She explains, "By learning a foreign language, students can develop a good understanding of the culture and philosophy behind the language and see the world from a new perspective." She adds that the School will continue to widen the language options, such as Arabic, Thai and other Asian languages.
Immersive Language Learning Environment with Overseas Studies
Apart from classroom teaching, the School actively engages students in different learning activities, such as internships, field studies, overseas exchanges and language immersion programmes in order to enhance their communication skills and boost their cultural awareness.
BTB students have the opportunity to take part in overseas study programmes, Dr Chan highlights. "We have been working closely with a number of prestigious universities, including Beijing Foreign Studies University and the University of Westminster (London), to provide an immersive language learning environment for our students."
Purpose-built and State-of-the-art Facilities
The School's purpose-built cutting-edge teaching and learning facilities are among the best in the region. They include a conference hall with interpreting facilities modelled after those used by United Nations interpreters; a translation and interpreting laboratory housing 32 interpreter's booths with audio-visual recording equipment and sound insulation, and a new translation technology workshop equipped with 31 iMac computers.
A Dynamic and Experienced Teaching team
The School has assembled a team of outstanding academics and seasoned practitioners with a broad spectrum of expertise, including law, media, finance, advertising, interpreting, linguistics, public relations, arts translation, literary translation and computer-aided translation. Professor Fong adds, "Our faculty members are relatively young, which helps build a good rapport with students. In addition to having an impressive track record in teaching and research, they are all practicing translators with years of experience in translation work."
Diverse Career Pathways
Career-wise, the Programme paves the way for graduates to excel in different lines of work, including translation, interpreting, professional language services, business, journalism and media, public relations, education, and legal services. Furthermore, graduates are exempt from certain papers of the Language Proficiency Assessment for Teachers (English and Putonghua).
Programme Information Talk 2021: Bachelor of Translation with Business (Honours)
Date: 19 July 2021
Time: 3:00 p.m.
Email: btb@hsu.edu.hk
Registration: https://bit.ly/3h3z1Te